our breathtaking newsletter
Weekly gloriousness sent to your inbox.
Saturday, May 26th - 1:00 PM-1:00 PM

DERF Happy Hour
Keep checking back here to find out where the next DERF Happy Hour will be!
Oakland area hotdogs fearful of Carson Palmerís arrival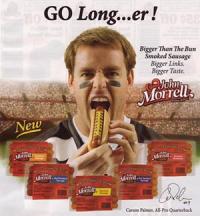 OAKLAND, CA - Bay area hotdogs are on a high state of alert after the announcement that Carson Palmer will soon be moving to the area. Quarterback Palmer is well known throughout the hotdog community as a voracious consumer of sausages.

"There is fear in the air," said grocery store meat department manager Kevin Martin. "You can feel it as you walk past the Hebrew Nationals, right on through to the Nathan's Famous, and even all the way down to chicken apple sausages and chorizo. Carson Palmer is coming to town, and no wiener is safe."

Palmer was well known, and feared, throughout the Cincinnati hotdog world. Hotdog community activists often attempted to broker peace talks between the frankfurters and the former Bengals quarterback, but those talks always ended in a disastrous breakdown as Palmer would angrily eat every hotdog that came to the bargaining table.

"It's not just that he enjoys eating hotdogs," said an area hotdog spokesman. "It's the way he eats them that is so scary. He's angry and amused at the same time. He gets so intense that his forehead wrinkles and his eyes pop forward. It's like watching a snake eat a mongoose. If he'd brought that same intensity to the football field, the Bengals would have won three or four Super Bowls."

Palmer's trade to the Oakland Raiders came just as he was attempting to get even deeper into the hot dog world. He had recently completed an application to become a driver of the Oscar Meyer Wienermobile.