our breathtaking newsletter
Weekly gloriousness sent to your inbox.
Saturday, June 23rd - 7:30 AM-12:00 AM

DERF Happy Hour
Keep checking back here to find out where the next DERF Happy Hour will be!
Carson Palmer disgusted with direction of Raiders, demands trade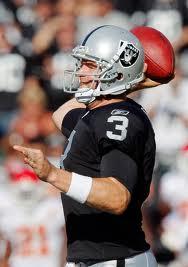 OAKLAND, CA - After a less than stellar opening game with his new team, Oakland Raiders quarterback Carson Palmer has become disgusted with his new organization. As a result, Palmer has demanded to be traded, and has threatened to retire.

In his opening start as Raiders quarterback, Palmer threw three interceptions as the team was shutout by the Kansas City Chiefs. The Raiders now go into a bye week, which Palmer plans to spend declaring his desire to get away from the team. He also plans to go to area restaurants, order a meal, and then threaten to retire if he does not like how his steak is cooked.

Palmer's brother Jordan Palmer has also reportedly threatened to permanently retire as an NFL quarterback if Carson is not granted his trade demand..


Palmer has already demonstrated his intentionsto leave Oakland by putting his Oakland home on the market. "This might be the fastest turnover in real estate history," said listing agent Kenneth Fulmer. "I didn't even have time to pick up the old yard sign before he told me he wanted to keep it right where it is so he could sell the house and get out of town. I'm not even sure he fully closed on the sale."

Raider's management has been uncertain how to respond to Palmer's demand. Some in the front office believe it is a bluff. Some think that Palmer's mood would be improved if the team were to bolster their lineup with a supporting cast of Chad Ochocinco and Terrell Owens. Others think that the best move would be to trade Palmer, and they have made contact with the Cincinnati Bengals in hopes that they would be willing to take Carson in exchange for several draft picks.