our breathtaking newsletter
Weekly gloriousness sent to your inbox.
Sunday, June 24th - 6:30 AM-10:00 PM

DERF Happy Hour
Keep checking back here to find out where the next DERF Happy Hour will be!
Crosstown Shootout least violent day in Norwood 2011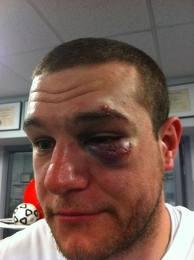 NORWOOD, OH - Though many were outraged by the fight that erupted at the end of this year's Crosstown Shootout, officials in Norwood have heralded the day as the least violent of 2011. Officials hope for a similarly non-violent day before the end of the year, but most believe the record will stand.

"A couple dozen punches and a little blood," laughed Jonathon Frye of the Norwood Public Safety Department. "We usually see ten times that much violence before the sun comes up. In fact, if there isn't at least a knife involved, we're reluctant to even call it violence."

The previous day, for example, showed three dozen similar fights. However, these fights involved several dozen knives, three handguns, and a surprising number of martial arts weapons. "As soon as Yancy Gates comes at someone with a Chinese throwing star," said Frye. "Don't even bother to get me out of bed."

Though officials did count the fight at the Cintas Center as part of the violence, it was not the only incident taking place in the area at the same time. "Some dude was repeatedly running over his old lady with a riding lawnmower down the street," said Norwood Police Captain Michael Stowe. "She didn't bother to press charges though, she said the blades were dull and she had it coming anyway."

The day will go down as one of the least violent Norwood days in recent memory. Officials are hopeful that it will be repeated, perhaps at next year's Crosstown Shootout. They are looking into a plan to buy tickets to next year's game for Norwood residents to ensure that they spend the entire day in Clifton.