our breathtaking newsletter
Weekly gloriousness sent to your inbox.
Saturday, June 23rd - 7:30 AM-12:00 AM

DERF Happy Hour
Keep checking back here to find out where the next DERF Happy Hour will be!
Louisville/Lexington mayors bet meth labs over Final Four basketball game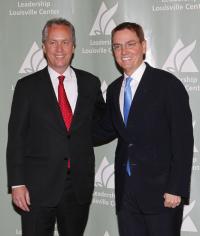 LOUISVILLE, KY - In the tradition of politicians making good natured bets on big games, the mayors of Louisville and Lexington have wagered meth labs from their respective cities on the outcome of the upcoming NCAA Final Four showdown between UK and the University of Louisville.

In a joint press conference, the mayors announced the proclamations from their respective cities laying down the terms of the wager. "Whereas, the city of Louisville places great pride and confidence in our beloved Cardinals," announced Louisville Mayor Greg Fischer. "We hereby put on the line one of our city's finest methamphetamine producing laboratories. It is painted bright Cardinal red, and can produce enough high quality crank to tweek up every proud citizen of this beautiful Commonwealth."

Not to be outdone, Lexington Mayor Jim Gray announced, "Be it known in Lexington, in Louisville, and throughout the Bluegrass State, the honorable citizens of Lexington wager that the Wildcats of UK will be victorious in the Final Four versus the Cardinals of Louisville. We are so confident in our team that we put on the line a Lexington meth lab carved of fine dogwood. Said meth lab produces crystal so dank that a few hits would render the city of Louisville tore up from the floor up."

After the conference, former coaches and current radio talk show team Denny Crum and Joe B. Hall sampled meth product from both labs, and proclaimed them to be the finest they'd ever enjoyed. The pair then went on to finish their two hour radio show in only fifteen minutes.