our breathtaking newsletter
Weekly gloriousness sent to your inbox.
Saturday, May 26th - 1:00 PM-1:00 PM

DERF Happy Hour
Keep checking back here to find out where the next DERF Happy Hour will be!
Post-victory couch burning alleviates Lexington bed bug crisis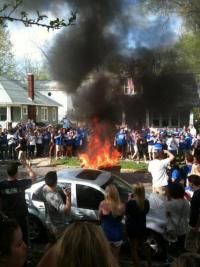 LEXINGTON, KY - Following the Kentucky Wildcats victory in the NCAA Men's basketball championship, students and residents of Lexington took to the streets to celebrate. The many couches which were burned as part of those celebrations resulted in the unintended consequence of alleviating Lexington's bed bug problem.

Pest control experts confirmed the news shortly after the celebrations had quieted and the couches had been extinguished. "This is now one of the most bedbug free cities in America," said Dr. Kevin Nopinger. "It seems that the biggest population of the bugs were in hiding specifically at the homes of Kentucky Wildcat fans, and specifically at the homes of Wildcat fans who show their happiness by setting furniture on fire."

Though most people are happy that burning the couches resulted in the bug extermination, others are not pleased. "Kentucky basketball is about tradition," said longtime UK fan Darrel Holland. "Some of those bedbugs were direct descendants of the bedbugs that lived in Adolph Rupp's rumpus room. Now, just like the set shot, tiny shorts, and white power-forwards...they are a thing of the past."

"I'm not happy about this either," added Stump Schaefer of Richwood. "Big Blue Nation loves animals. In fact, some of us love them a little too much, but I won't get into that. Just suffice it to say that all God's creatures are respected by UK fans, from the wildcat, to the bedbug, to that caterpillar who lives on Anthony Davis' brow ridge, we love them all."

Police report that the burned furniture caused very little actual damage and that no charges have been filed. "All of the fires appear to have been very well contained," said Captain William Purser of the Lexington Sheriff Department. "We are very lucky that the people who set the fires kept a good eye on them, we could have lost a lot of good meth labs if things had gotten out of control."

The bedbug problem in Lexington may be quiet for now, but there is no guarantee that it will stay that way. Cincinnati, just north of Lexington, is the current bedbug capital of the country and experts worry that the Cincinnati bedbugs may make their way south. Experts believe that the only way for the region to be entirely bedbug free would be for the Cincinnati Bengals to win the Super Bowl.