our breathtaking newsletter
Weekly gloriousness sent to your inbox.
Saturday, June 23rd - 7:30 AM-12:00 AM

DERF Happy Hour
Keep checking back here to find out where the next DERF Happy Hour will be!
Bronson Arroyo worries focus on pitching may hold back music career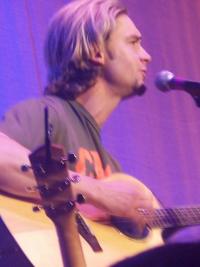 CINCINNATI, OH - Bronson Arroyo is off to one of his best starts in recent history, however, the right hander worries that the focus he is putting into his pitching performance may be hindering his music career.

In particular, Arroyo has lamented that the increased time he has spent working with the Reds coaching staff has detracted from his music. "Pitching once every five days should leave plenty of time to rock out and groove," he explained. "But now that I am spending time charting pitches, working out, and perfecting my mechanics I feel like Rock N Roll is a distant memory."

Reds officials are thrilled with Arroyo's performance thus far this season. "He's really showing good command of his pitches," said manager Dusty Baker. "And I'm surprised at how focused he has been on the mound. If this is the price we have to pay for saving the world from more Incubus cover songs, so be it."

"The other day I was shredding a tune on my axe," said the hard rocking Arroyo. "I was about to go into the solo and I totally missed a chord. I think my mind drifted off and I started thinking about how I should pitch inside to left handers more often. It totally ruined the song. What really sucks is: it was my second favorite chord right behind that other one I know."

Though baseball analysts see this as a positive trend for Arroyo, music analysts are not sure what to make of it. "This puts a big question mark on the future of Bronson's music career," said music critic Phil Breen. "The best situation would be for him to channel his inner anger and turn it into music when he has the time. Perhaps the frustration and angst will lead to him doing covers of Emo bands."