our breathtaking newsletter
Weekly gloriousness sent to your inbox.
Wednesday, April 25th - 6:30 PM-8:30 PM

DERF Happy Hour
Keep checking back here to find out where the next DERF Happy Hour will be!
Crosstown Shootout rebranded as less violent Crosstown Hugfest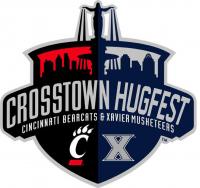 CINCINNATI, OH - In an effort to recover from the embarrassing fight that occurred at last year's Crosstown Shootout basketball game, organizers have moved the game to a neutral court and renamed the game, "The Crosstown HugFest."

"It was actually our second choice," said Crosstown HugFest Chairman William Nysonger. "The name 'Crosstown Jamboree of Gentlemanly Tenderness and Active Listening' was our first choice. Unfortunately, that name has already been licensed to The Big Ten Football conference. I hear they are planning to use it as the new branding for the Ohio State/Michigan game."

The Crosstown HugFest will be played at US Bank Arena, a neutral court which organizers hope will keep overzealous fans from overwhelming one of the teams. "Having tens of thousands of people screaming their hatred at you can bring out the worst in a person," said HugFest Chairman Paul Wilkensen. "The rivalry had become so bitter that we thought it would be best to have an even number of fans for each team. Best of all, this means that each UC fan can now be matched up with one XU fan, and then they can all line up to deliver hugs."

Other hugging related festivities will include the UC Bearcat mascot hugging engaged in long, slow, comfortable hugs with both the XU Musketeer mascot and the Blue Blob during time-outs. Cheerleaders will perform dance routines that end with Crosstown Hugging. And the pre-game festivities will feature hugging, members of both schools' coaching staffs cuddling together on big comfy pillows at half court.

Further ensuring that the basketball game will no longer become a violent display, NBA superstar Meta World Peace has been invited to the game. He will spend time on both benches, whispering happy thoughts and passing out occasional hugs.