our breathtaking newsletter
Weekly gloriousness sent to your inbox.
Saturday, May 26th - 1:00 PM-1:00 PM

DERF Happy Hour
Keep checking back here to find out where the next DERF Happy Hour will be!
Aroldis Chapman introduces US fans to ancient Cuban ritual, 'Summersault of Respect'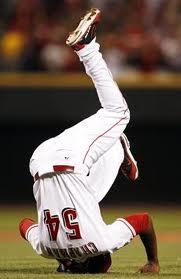 CINCINNATI – After pitching a 3 strikeout inning to complete a 4-3 win against the Milwaukee Brewers, Aroldis Chapman treated US fans to a little known Cuban tradition known as the Summersault of Respect. Chapman actually performed two consecutive Summersaults of Respect which reportedly is the highest form of respect a Cuban person can show another person or persons.

The Summersault of Respect is an ancient ritual often performed by Cuban people at important events such as weddings and religious ceremonies. Cuban children are often required to perform Summersaults of Respect when addressing their parents. Cuban cultural Authority, Juan Guillermo Marquez, says it is a very rare indulgence to witness the Double Summersault of Respect. "Aroldis must indeed feel a deep sense of respect for his team. I have only seen a double one or twice in my life."

Aroldis Chapman commented, "I get in so much trouble lately that I want to show respect to my team and coach. I show I loves them by giving Summersault of Respects. I hope Mr. Dusty like the summersaults."

Dusty Baker could not be reached for comment but sources say he attempted to perform a Summersault of Respect in the locker room following the game and reportedly sprained a neck muscle.