our breathtaking newsletter
Weekly gloriousness sent to your inbox.
Wednesday, April 25th - 6:30 PM-8:30 PM

DERF Happy Hour
Keep checking back here to find out where the next DERF Happy Hour will be!
Michael Phelps studied Rosetta Stone three hours per day in preparation for London Olympics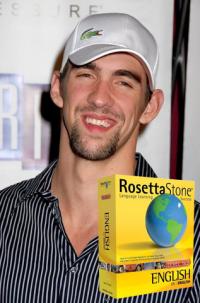 BALTIMORE, MD - Looking to put his best foot forward as one of the leaders of the US Olympic team, swimmer Michael Phelps has been using the Rosetta Stone Language course to prepare for the London Olympics. Phelps has been intensely studying the course upwards of three hours per day.

"A great part of being part of the Olympics is mingling with the locals," explained Phelps. "I feel I can be a greater ambassador of this great country of ours if I learn the local language instead of only being able to speak American. Of course, I've been told that there are some people in London who know how to speak American, but I think it will really put them at ease if I talk to them in the same language."

Phelps began the Rosetta Stone program several months prior to the Olympics, in order to give himself a head start. "I don't always have the best luck in learning things," Phelps says. "So I wanted to make sure I had plenty of time. Some of those vowel sounds they make in that language are really hard. Especially when you try to sound them out underwater."

Phelps believes that the extended studying is paying off. "I'm really getting the knack of it." he said. "So now I'm going to be feeling really confident when I'm out among the people ordering food, making conversation, or purchasing large quantities of marijuana."