our breathtaking newsletter
Weekly gloriousness sent to your inbox.
Sunday, April 22nd - 11:00 PM-5:00 PM

DERF Happy Hour
Keep checking back here to find out where the next DERF Happy Hour will be!
Peyton Manning elected head pastor of Tim Tebow's Denver Ministry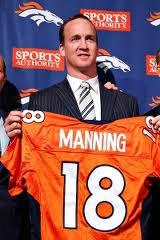 DENVER, CO - Just as Tim Tebow's reign as quarterback of the Denver Broncos came to an end, so has his pastorship of the Tim Tebow Denver Ministry. Tebow will be replaced in the pulpit by new Bronco starting quarterback Peyton Manning.
Tebow had initially hoped to continue his Denver ministry despite being traded to the New York Jets. "I think I made some real progress in Denver," said Tebow. "But I guess the ministry decided to go in a different direction. I'm hoping to start a new ministry in New York now, but at the moment it looks like I have to win the spot from some more experienced pastors."
Tebow was popular with many in the Denver ministry, but ultimately they decided that Peyton Manning was a better choice to take the helm. "Peyton is a proven winner in the pulpit," said congregation member Ralph Chen. "By 'pulpit' of course, I am referring to him as a spokesman for hundreds of companies over the years. Same deal, pretty much."

Others in Tebow's Denver Ministry went on to explain the move. "We needed some veteran leadership at the helm," said associate pastor Kevin Schaefer. "There were days were you could tell Tim was in over his head. Scrambling around like a crazy man instead of focusing on the primary and secondary receivers of ministry. He might be there some day, but right now we are going with that Manning experience."

As a bonus, The new Peyton Manning Denver Ministry is pleased to announce their new janitor and part time book keeper, Mr. Cooper Manning.