our breathtaking newsletter
Weekly gloriousness sent to your inbox.
Saturday, June 23rd - 7:30 AM-12:00 AM

DERF Happy Hour
Keep checking back here to find out where the next DERF Happy Hour will be!
Dead Sea Scrolls exhibit expected to draw larger crowds than Carson Palmer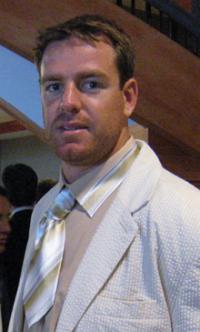 CINCINNATI, OH - The game between Carson Palmer's Oakland Raiders and his former team the Cincinnati Bengals has seen a lack of fan interest and dim ticket sales. Experts now believe that larger crowds are expected to gather for the Dead Sea Scrolls exhibit at the Museum Center than for Carson Palmer.

"Business has been, well, steady," said Dead Sea Scrolls exhibit traveling coordinator Jim McKenberg. "To be fair, the Dead Sea Scrolls have been around for thousands of years so, of course, many people have already had the opportunity to see them." The number of visitors has been noticeably higher in Cincinnati, due in part to the influx of Museum Center patrons who inadvertently enter the exhibit while searching for the Christmas Train Display.

Despite the relatively small crowds, Carson Palmer sees the larger interest in the Dead Sea Scrolls exhibit versus his return to Cincinnati to be expected. "The Dead Sea scrolls have always gotten a lot of good press," explained Palmer. "You never hear a sportstalk radio host saying that the Dead Sea Scrolls are a bunch of quitters who have no heart. You never have bloggers complaining that the Dead Sea Scrolls are over-rated scrolls who are paid too much and will never live up to their full attention. Maybe I need to hire the Dead Sea Scrolls' press agent."

Some people will be part of both crowds. Carson Palmer's brother Jordan works at the Museum Center as a janitor, and therefore has seen the exhibit multiple times. "It's pretty cool, especially when I find some loose change while I'm sweeping the floor," explained Jordan. "And now, I'm looking forward to going to the game to watch my brother play. I guess I have to go since I can't find anyone who wants to buy this free ticket he gave me."