our breathtaking newsletter
Weekly gloriousness sent to your inbox.
Sunday, June 24th - 6:30 AM-10:00 PM

DERF Happy Hour
Keep checking back here to find out where the next DERF Happy Hour will be!
Pacman Jones celebrates four months of no bar assaults with strip club frenzy in Detroit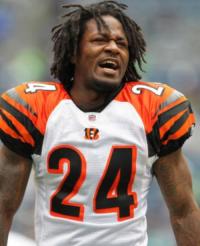 DETROIT, MI - The Cincinnati Bengals celebrated not only a win over the Detroit Lions this week, but another milestone as well. Bengal defensive back Adam PacMan Jones marked the passing of four months free from bar assaults. This occasion led to a celebratory Detroit strip club frenzy.

Jones and friends went from strip club to strip club, celebrating with great abandon. "I know I haven't always had the best luck with the strip clubs," said Jones. "But, obviously, after four months of clean living with no bar assaults that became public, it's a new day and time to celebrate. I really don't see myself punching anyone tonight. Unless it's someone who let's me do and promises to stay quiet in exchange for a crisp dollar bill."

The night went by without incident, despite some pretty rowdy behavior from Jones and his entourage. "Yeah, they were kind of out of control," said Detroit stripper Candy Lapp. "But then again, they were the only people we'd seen for weeks who actually had dollar bills. Most of our customers tip in quarters, if we get any at all. This is Detroit, you know."

The party was scheduled to head across the border to Windsor, Ontario Canada. However, the Canadian government has banned all members of the Cincinnati Bengals from stepping foot on Canadian land. The ban was a special clause in the North American Free Trade Act the Canadian government insisted on before signing.