our breathtaking newsletter
Weekly gloriousness sent to your inbox.
Sunday, April 22nd - 11:00 PM-5:00 PM

DERF Happy Hour
Keep checking back here to find out where the next DERF Happy Hour will be!
Bryan Price looking forward to next 21 months as Reds manager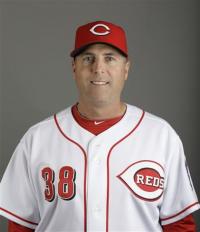 CINCINNATI, OH - After being introduced as the new manager of the Cincinnati Reds, Bryan Price happily announced that he is looking forward to his new, albeit certainly brief reign as the Reds skipper. Price believes that he will truly enjoy the next 21 months of his employment as the Cincinnati Reds manager.

"We've got a lot of work to do," said Price. "There may be some changes in personnel, and there may be a change in attitude. But, one thing is certain, after a little less than two years, there will be a change in managers and my work here is done. Thankfully, I've been given a free pass with some good will because I don't chew on a toothpick. That's why I'll be here more than 11 months."

Though the Reds have not officially announced that Price will have a brief stint as manager, the writing on the wall is clear. Sports talk radio show phone lines lit up with complaints just moments after Price's introductory press conference. "I am shocked and disgusted with this guy," said caller Brandon Wiley of Mt. Lookout. "He's had plenty of time to rework the lineup and to make Chapman into a quality major league starting pitcher, but he wasted it all at a press conference instead. Time for new urgent leadership."

"Bryan Price has yet to show me he's more than just a pitching coach," said sports blogger Paul Rosen. "He has yet to put out a lineup with a decent hitter in the number two spot. Plus, he is letting Brandon Phillips flirt with girls on his Twitter account. That makes me very uncomfortable, especially since I've never actually spoken with a girl in my entire life."

Price continues to take the criticism well. "That's just the way it goes in Cincinnati," he explains. "The city has thousands of beer league softball playing fans who think they're managerial geniuses, grumpy announcers, sycophant sports writers and lazy reporters. There is no sense in fighting it. Might as well just sit back, relax, and enjoy every brief moment of my 21 month managerial run before handing over the reigns to Pete Rose Jr."