our breathtaking newsletter
Weekly gloriousness sent to your inbox.
Saturday, June 23rd - 7:30 AM-12:00 AM

DERF Happy Hour
Keep checking back here to find out where the next DERF Happy Hour will be!
Pittsburgh Steelers fans selling tickets, terrible towels, dignity on StubHub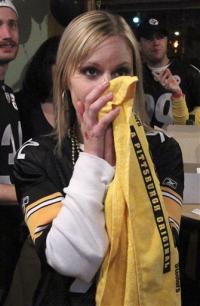 PITTSBURGH, PA - In anticipation of the Sunday Night Football AFC North matchup between the Cincinnati Bengals and Pittsburgh Steelers, the website StubHub is alive with activity. Residents of Pittsburgh have flooded the website selling their game tickets, terrible towels, player jerseys, and dignity.

"In the past, Pittsburgh home games did not get us a lot of business," said StubHub representative Calvin Marks. "Steeler fans were very likely to hold on to their tickets. This year, it's a different story. Maybe it is their losing record. Maybe the fans feel a humiliating loss to Cincinnati is inevitable. Or, maybe it means that the somewhat slow witted population of Pittsburgh is finally learning how to use the internet for something other than mail-order sausages and security guard training services."

Sociology professor Dr. Martin Wallace believes that all of those explanations hold some validity. "The expectation of a loss to the league leading Bengals is a tough pill to swallow," Wallace explains. "Steelers fans may look like a tough bunch, but underneath those scruffy-bearded, bloated, alcohol-reddened cheeks lie some sensitive psyches....and that's just the women. Pittsburgh men are even worse."

Nearly five thousand tickets have been placed for the game have been put up for sale on StubHub alone, available for as little as $25. In addition, Steeler fans have offered up their infamous 'Terrible Towels' at various online resellers. The towels are being marketed with descriptions that point out their ability to wipe away tears, clean up Iron City Beer vomit, and shield ones nose from outrageous, city-wide odors."

Most curious of all the items offered for sale in anticipation of the game are the many fans who've offered to sell their dignity. Steeler's fans' dignity has not been selling well, as finding buyers with less dignity is difficult. Prices have stayed in the range of less than a dollar, and have only seen interest from some third world dictators, several members of Congress, and fans of Penn State football.