our breathtaking newsletter
Weekly gloriousness sent to your inbox.
Saturday, June 23rd - 7:30 AM-12:00 AM

DERF Happy Hour
Keep checking back here to find out where the next DERF Happy Hour will be!
Richard Sherman threatens to eat Mike Tysonís children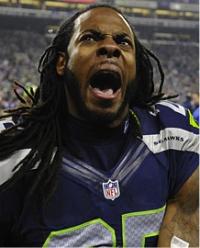 NEW YORK, NY - Following his post game rant with sideline reporter Erin Andrews, many expected Seattle Seahawk Richard Sherman to calm down. Instead, he has upped his tone and intensity. Sherman's most recent rant contained the threat that he planned to eat Mike Tyson's children.

"My defense in impenetrable," exclaimed Sherman to a group of reporters. "I cannot be stopped. I am a great force of furious tenacity. The best that ever was. Bring on anyone. Bring on Mike Tyson. I will eat his heart. I will eat his children. I will then go to Golden Corral and eat everything in the meat section. Are the cameras rolling? Good."

When reached for comment, Mike Tyson seemed unfazed by the threat. "I know what it's like to be that excited and pumped up," said the former heavyweight champ. "I sincerely doubt he will follow through on the threat. I know from first hand experience that eating children is much easier in theory than it is to do in real life. I think Richard should start small, maybe try a little ear biting."

Reaction to the comments has been mixed. Many football fans feel that Sherman's antics are classless and a bad influence for America's youth. Others feel that they really aren't a big deal. "I think he's entertaining to watch," said Russ Jackson. "In fact, I'd like to commend him for keeping the media busy. I'd rather watch him scream at me through the TV then listen to another word about Peyton Manning."