our breathtaking newsletter
Weekly gloriousness sent to your inbox.
Saturday, May 26th - 1:00 PM-1:00 PM

DERF Happy Hour
Keep checking back here to find out where the next DERF Happy Hour will be!
NKU fan unveils optimistic tattoo about school's 2016 Division I debut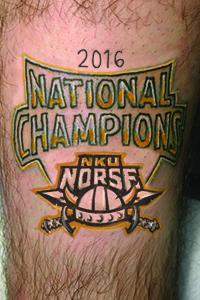 HIGHLAND HEIGHTS, KY - NKU fan Derek Neltner has expressed high hopes for Northern Kentucky University's first year as an NCAA Division I competitor. The school makes it's D-I debut in 2016. Neltner, 46, inked his enthusiasm with a tattoo declaring NKU the 2016 national NCAA basketball champs.

Neltner has never attended NKU but lives in the neighboring community of Taylor Mill KY and works at the Larosa's Pizza restaurant on Dry Creek Road as a delivery associate. "I've always been a huge fan of NKU. I deliver pizza's all over Campbell County and NKU is my favorite delivery spot."

In his blog about everything he loves entitled, "Pizza Delivery and NKU Basketball", Neltner explained why he felt confident enough to permanently express his prediction. "I think there's already something special in the air about our 2016 team. We might get those amazing twins from Newport High School, Shane and Tyler McConkle. Either one of them could have been Mr. Basketball in Boone County last year but Shane spent part of the season in jail and Tyler took time off to take care of Shane's kids in Kentucky and Ohio. But if they can stay focused in their upcoming second senior year, NKU will dominate."