our breathtaking newsletter
Weekly gloriousness sent to your inbox.
Saturday, June 23rd - 7:30 AM-12:00 AM

DERF Happy Hour
Keep checking back here to find out where the next DERF Happy Hour will be!
Andy Dalton asked to show ID for entrance to Andy Dalton Celebrity Waiter event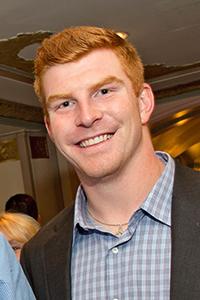 CINCINNATI, OH - The Andy Dalton Celebrity Waiter charity event was by all accounts a huge success. The event was kicked off in slightly peculiar fashion, as its namesake, Andy Dalton, was asked to show identification before being allowed to enter.
"Our door staff was polite but they didn't recognize Andy," said event security supervisor John Snell. "He looked slightly familiar to them but it was difficult to make a positive identification. An exhaustive internet search resulted in only a sampling of available photos."
Security guards working the door said they believed Andy Dalton was actually a man posing to be an NFL quarterback. "We didn't know much about the event ahead of time," said security guard David Sanders. "We knew it was a celebrity event. But we didn't know who this Andy Dalton guy was who was supposed to be a celebrity. They should have called it the "Andy Dalton: Bengals interim quarterback event", just so people would be clear."
Andy Dalton was eventually allowed to enter when teammate AJ Green insructed the door staff to let Dalton in.
This is not the first time Dalton has had his appearance at an event called into question. In recent years, he has been discovered and asked to leave several events including the Future Hall of Fame Quarterbacks dinner, the 50 Greatest Ginger Athletes in Cincinnati Banquet, and the NFL Pro Bowl in Honolulu.