our breathtaking newsletter
Weekly gloriousness sent to your inbox.
Saturday, May 26th - 1:00 PM-1:00 PM

DERF Happy Hour
Keep checking back here to find out where the next DERF Happy Hour will be!
Griffey severs left hand opening Spaghetti-O's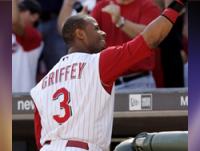 CINCINNATI - Ken Griffey Jr. has upstaged his own inexplicable injuries by cutting off his own right hand in a freak off-field accident with Chef Boyardee. Not to be outdone by the steady plague of more pedestrian injuries, Griffey wowed Reds fans everywhere with what analysts are calling the most innovative removal of an appendage' in sports history. In 1989, his rookie season with the Seattle Mariners, Junior slipped in the shower and broke a bone in his right hand. In the years after his much-publicized move back to Cincinnati, he stepped it up and consistently logged season-ending injuries consecutively in 2002, 2003, and 2004. In the 2006 off-season, a frisky wrestling bout with his daughter left him with yet another broken hand. Sure, his hamstring habitually snapped while running the bases. And yes, Griffey has proven he can shatter his hand conducting normal daily activities. But a real hall-of-famer takes it to the next level. I'd been missing batting practice because I broke my hand in a tussle with [daughter] Taryn. But I thought, Anyone can heal from a broken metacarpal. How many players can bat without a hand? I can't think of any. ConAgra, owner of Chef Boyardee, has not yet issued comment.