our breathtaking newsletter
Weekly gloriousness sent to your inbox.
Saturday, May 26th - 1:00 PM-1:00 PM

DERF Happy Hour
Keep checking back here to find out where the next DERF Happy Hour will be!
Chris Henry offers to mentor Josh Hamilton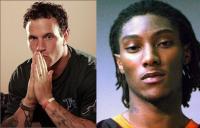 CINCINNATI - In an inter-sport gesture of good will, Bengals receiver Chris Henry offers his counseling services to Reds' Left Fielder Josh Hamilton to help him stay on the straight and narrow. After a five-year battle with drugs and run-ins with the law, Hamilton has clawed his way back up to the majors. Taking a cue from the Bengals front office, Jerry Narron decided to go for a bargain on a promising player with a checkered past. But unlike the Bengals, Narron plans to give Hamilton the right support and role models to increase his chances of success. About his new responsibility, Henry says, "Everyone needs someone to look up to. Back in the day, I had role models like LT and Michael Irvin to look up to. Without those guys I might have been arrested a lot more than nine times. I'm just trying to give back to the community." Hamilton commented, "Chris has learned from his mistakes and I appreciate everything he has taught me. I think some of the best advice he gave me is to never to wear my own jersey if I plan to wave a gun around in public. These are words of wisdom and I will take them seriously." The United Way and Boys & Girls Clubs of Greater Cincinnati have yet to seek endorsements from either player.