our breathtaking newsletter
Weekly gloriousness sent to your inbox.
Saturday, May 26th - 1:00 PM-1:00 PM

DERF Happy Hour
Keep checking back here to find out where the next DERF Happy Hour will be!
Carson. Say It Ainít So.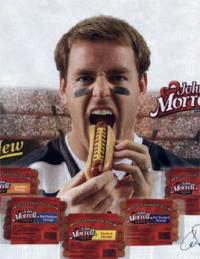 By Sarah Leugers, DERF Sports Columnist
Look at this. Look. At. It. This picture is not digitally enhanced or Photoshop'd. This is an actual ad running in actual publications, supported by an actual TV campaign where Carson Palmer is encouraged to "go longer" with a large sausage aggressively poised in his open mouth. I admit I've been guilty of innuendo and borderline-gratuitous commentary about people's… preferences. In fact, I'd do anything to make sure every football fan alive watches the video of Peyton Manning flamboyantly doing the tango on Youtube. But this ad leaves no room for innuendo. It's our quarterback, and he's about to test his gag reflex on a big hot dog.
My buddy Cam may be the world's biggest Bengals fan. Delusionally optimistic, even back in the 2-14 days. He lives in San Francisco but still shows up at Bayside sports bar at 10 am for every Bengals broadcast, and makes the trek back to Cincinnati for several games a year. Despite his rose-colored glasses, Cam used to get visibly nervous during games. He once cited the punt return as the single most dangerous Bengal play. The second? Akili Smith in shotgun. Why? Because he's not supposed to be in shotgun.
Recently, Cam sent me an obscure text message saying, "Carson is like Xanax." Unsure of the connection, I asked why. "Because I don't have anxiety when the Bengals put it in the air anymore."
You can imagine his dismay when he saw "the ad." He's inconsolable. Ruined. And frankly, Carson's agent should be too. I only wish I was on set at the photo shoot. "No Carson, shove the wiener in your mouth harder this time. Like you really WANT it."
Admittedly, Chad took a risk in wearing silky skivvies to race a stallion at River Downs. But he has about 5 kids so I'm pretty sure his manhood is firmly intact. Carson? No rugrats. The wife…? I'm just saying, she could be a beard.
I know it shouldn't matter, but I can't take any more murmurings about the Bengals. We've gotten enough off the field press. And I don't want to hear it from Pittsburgh fans. I think I speak for all of us when I say we'd rather have Carson embroiled in a sordid sex cruise, or even indicted for connections to a ferret fighting ring. So Carson, I'm just asking: Can you do a little damage control? Get busted with a skanky blonde outside a strip club? Maybe knock up Katie Blackburn? Please. We need this.