our breathtaking newsletter
Weekly gloriousness sent to your inbox.
Friday, December 13th - 5:00 PM-10:00 PM

DERF Happy Hour
Keep checking back here to find out where the next DERF Happy Hour will be!
Ron Mexico indicted in Chihuahua scandal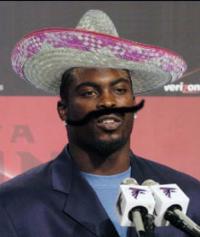 By Sarah Leugers, DERF Sports Columnist

In a stupefying coincidence in the wake of Michael Vick's federal indictment for breeding and trafficking pit bulls for dog fighting, Vick's own personal alias Ron Mexico was charged with breeding and training illegal immigrant Chihuahuas to wash dishes and clean hotel rooms.

Included in Mexico's criminal offenses are not only accusations that he bred them to turn a profit with cheap manual labor, but that he bred WITH these innocent animals, deliberately transmitting canine venereal disease (CVD). Sources close to Vick and Mexico claim that the particular strain of CVD is none other than herpes simplex 2. During a search of his person, Mexico was found with some low-grade schwag weed in a secret compartment of a bottle of Cuervo that he claims didn't even get him high-just made him crave Chalupas.

This aftershock follows the ever-growing scandal that now also implicates Michael Vick's own baby brother Marcus Vick, whom you may remember from such class acts as providing alcohol to minors, possession of narcotics, and using his cleats to stomp the leg of a fallen opponent.

Always down for his bro, Marcus was there willing to stomp to death the dogs who failed to tear apart their foes. However, not willing to stoop to his brother's level to knowingly infecting bitches with an incurable virus, Marcus merely engaged in disease-free relations with puppies under 18 and then scored them some booze.

Football fans, Congressmen, animal activists, and retired fast food ad icons around the country are outraged. Anderson Township resident Bob Puttman can't believe that Vick won't be around for a late 7th round sleeper pick up in his Fantasy draft. "Barbaric," Sen. Robert C. Byrd, D-W.Va., shouted four times in an empty Senate chamber, "Let that word resound from hill to hill and from mountain to mountain, from valley to valley across this broad land," he thundered, raising his right hand. "May God help those poor souls who would be so cruel. Barbaric! Hear me!" Pamela Anderson plans to show her breasts. Not to support PETA's protest, she just plans to show her breasts.

And finally, the Taco Bell dog barked nervously, "Yo quiero Valtrex!"