our breathtaking newsletter
Weekly gloriousness sent to your inbox.
Thursday, July 11th - 3:00 PM-9:30 PM

DERF Happy Hour
Keep checking back here to find out where the next DERF Happy Hour will be!
2007 Bengals Rookie Class Reported 60% Tougher to Pronounce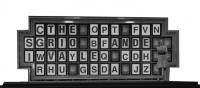 By Sarah Leugers, DERF Sports Columnist
I've had only a few compelling observations during the preseason. The Bengals' performance—even our legendary offense—has been decidedly underwhelming. It makes me nervous when one of the only interesting issues is the increase in rookie foreign nationals.
Side note: I'm watching the Bengals-Falcons game right now and Joey Harrington just threw his second touchdown in the first half, just as Chris Mortensen and Suzy Kolber lament the loss of Michael Vick. What's going on in this world? We're in trouble.
What happened to the good old days when we drafted only guys named Johnson? From Rudi to Landon, from Jeremi to Doug, and even my sweet Chad, we love our Johnsons here in Cincinnati. OK, throw in a couple Jacksons for good measure. But just as in baseball (I just learned there's also now a Japanese kicker on the Falcons), American football is being infiltrated by players of Samoan and African descent. Take a look:
Matt Toeania
Tackle, American Samoa
Chinedum Ndukwe
Safety, Powell, Ohio
Harrison Nikolao
Guard, Tacoma, Washington
Dane Uperesa
Tackle, Hauula (Oaju), Hawaii
Xzavie Jackson
Defensive End, Vacaville, California
Jonathan Fanene
Defensive End, American Samoa
With the swell in polysyllabic last names, I would set an over/under for the number of times the Monday Night Football announcers stumble on Bengal rookie names. But with Ron Jaworski replacing Joe Theismann, there are now three bright, articulate, and insightful guys in the booth. They may handle it, whereas Theismann surely would have asked to buy a vowel.