our breathtaking newsletter
Weekly gloriousness sent to your inbox.
Saturday, June 23rd - 7:30 AM-12:00 AM

DERF Happy Hour
Keep checking back here to find out where the next DERF Happy Hour will be!
Giselle Bundchen dating Tom Petty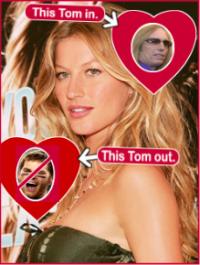 Poll indicates Tom Brady 31.2% less good-looking this week.

BOSTON - New England Patriot's Quarterback Tom Brady suffered a second loss this week when supermodel girlfriend Giselle Bundchen ended their relationship almost immediately after the Patriots stunning Superbowl loss to the New York Giants. In a statement to the press following the Superbowl, Bundchen said, "I sense something has changed in our relationship. I'm not sure what is different but I no longer have the feelings I once had for Tom Brady. However, I met Tom Petty late in the 4th quarter and we hit it off."

The breakup may be partly explainable considering a national survey indicating Brady's attractiveness quotient among women suffered an overnight drop of 31.2% following the Superbowl loss. Conversely, New York Giants Quarterback Eli Manning's attractiveness quotient increased over 61.7%. Although Manning is reportedly engaged, Giselle Bundchen confirmed she recently introduced herself to manning and conversed with him via several hundred text messages during the weekend following the Superbowl. Bundchen commented, "I just wanted to congratulate Eli. We are just friends right now but I do have a sense there could be something deeper between us. Who knows how it will turn out. Right now I am committed to Top Petty."
Related Stories