our breathtaking newsletter
Weekly gloriousness sent to your inbox.
Monday, April 6th - 1:00 PM-1:00 PM

DERF Happy Hour
Keep checking back here to find out where the next DERF Happy Hour will be!
Super athlete Michael Phelps perfects one-handed iron cross on gymnastic rings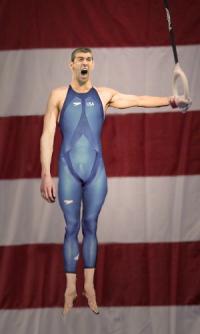 BEIJING, CHINA - Heralded as the most prolific American athlete in Olympic history, Michael Phelps completed his quest to win countless Olympic gold medals not only in swimming but also in many other sports. The official Phelps gold medal count has not yet been released yet but preliminary calculations indicate Michael Phelps contributed over 90% of the American medals.

Phelps led the U.S. men's gymnastics team to Olympic gold with the unprecedented one-handed iron cross maneuver he developed in between swimming events. Phelps also stood on the shore and used his powerful lung capacity to blow local rower Brian Volpenhein's craft to a bronze medal victory in the rowing competition. U.S. basketball Olympians Kobe Bryan, Lebron James, and Jason Kidd credit Michael Phelps with all scoring, assists, and defensive contributions. Lebron James commented, "Our opponents had difficulty defending against Michael's double-jointedness." Phelps also made record-setting contributions in beach volleyball, indoor volleyball, the marathon, and all track and field events.

In addition to sports related accomplishments, Phelps made many other impressive contributions to the Olympics including working in the African gold mines to extract the gold used to make the Olympic gold medals. Phelps also spent 6 years single-handedly designing and building the Beijing Olympic Village. He also secured an agreement from Chinese political officials to begin the process of converting to a democratic form of government. Michael Phelps also led the NBC Broadcasting organization during all of the Olympic coverage. NBC Correspondent Bob Costas, who reported directly to Michael Phelps, said, "Michael has been an excellent boss here in Beijing."