our breathtaking newsletter
Weekly gloriousness sent to your inbox.
Saturday, February 1st - 12:00 PM-2:00 AM

DERF Happy Hour
Keep checking back here to find out where the next DERF Happy Hour will be!
Embarrassing typo spoils Olympic Heroes celebration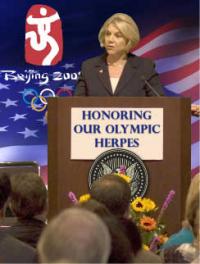 Misspelling changes Heroes to Herpes.

COLORADO SPRINGS - America's Olympic athletes were formally welcomed home this week during a ceremony organized by the U.S. Olympic Committee. Those in attendance noticed an unfortunate spelling error on all printed signage in which the word herpes unintentionally replaced the word heroes.

This single-letter difference embarrassed several of the Olympic athletes who ironically became infected with the herpes virus after visiting Chinese brothels in Beijing during the Olympic Games. One athlete commented anonymously, "I found it difficult being reminded of my recent herpes diagnosis through the entire event. This was a very unfortunate spelling error."

During her address to the Olympic honorees, USOC President Stephanie Streeter apologized for any embarrassment the mistake caused but also used it as a metaphor for the often small factors that prevent the achievement of excellence. "Perhaps in a small way this unfortunate spelling error symbolizes the tiny difference between greatness and bitter defeat. Many of you lost gold, silver, and bronze medals by very narrow margins. All you had to do was try a little harder. All we had to do was proofread our signage one more time. Let this unfortunate mistake be a lesson to all of us."

Following the ceremony, Streeter reiterated the misspelling was completely unintentional and certainly not intended to make an example of those athletes who unfortunately contracted the herpes virus in Beijing. She explained she is familiar with the personal anguish of living with herpes having become infected with the virus at the Olympic Games in Seoul Korea. "Let's face it, many of us get caught up in the excitement and adrenalin of the games which causes us to get carried away."
Related Stories