our breathtaking newsletter
Weekly gloriousness sent to your inbox.
Saturday, June 23rd - 7:30 AM-12:00 AM

DERF Happy Hour
Keep checking back here to find out where the next DERF Happy Hour will be!
Plaxico Burress graduates from Chris Henry University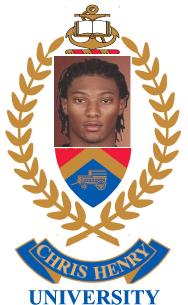 NEW YORK - New York Giants Wide Receiver Plaxico Burress graduated with high honors this week from the prestigious Chris Henry University. University Founder and President Chris Henry personally awarded Plaxico the Valedictorian honor after the celebrated NFL athlete completed the doctoral program in remarkable style by shooting himself in the leg with an illegal firearm.

"Plaxico is one of our most accomplished scholars!" said Henry. "Students at CHU are taught that gun play is a vital step toward graduation. I set a high standard in 2005 when I waved an illegal firearm around in a club while wearing my own NFL jersey but Plaxico raised the bar dramatically buy shooting himself."

CHU officials say 'Shooting Yourself In a Club' will soon become a graduate level course addition to the university's curriculum. Also, plans are underway to build a dedicated firearm wing with a nightclub simulation lab to be named after Burress.

Adam Jones, notable 2006 graduate of CHU, commented, "Plaxico has upheld the CHU tradition with great distinction. Seeing Plaxico's progress has inspired me to consider enrolling in the advanced degree program at CHU. Back in the day we didn't have role models for shooing yourself. Plaxico has opened our eyes to vast new possibilities."

Plaxico's Valedictorian speech was interrupted at the CHU commencement ceremony this week when shots were fired from the crowd. Plaxico was grazed in the shoulder but did not sustain any serious injuries. The undergraduate student responsible for shooting Plaxico was awarded an honorary Master's degree immediately following the incident. Chris Henry commented, "Plaxico has greatly inspired the class of 2008."