our breathtaking newsletter
Weekly gloriousness sent to your inbox.
Saturday, June 23rd - 7:30 AM-12:00 AM

DERF Happy Hour
Keep checking back here to find out where the next DERF Happy Hour will be!
In alternate universe Steeler fans celebrate Superbowl victory with quiet dignity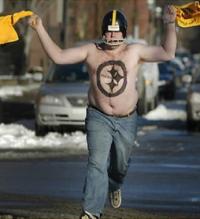 ALTERNATE UNIVERSE - This week NASA Scientists unveiled a computer model of a theoretical universe in which Pittsburgh Steelers fans behaved in a noble and solemn manner following a Steelers Superbowl win. It took several years for all of the NASA scientists and supercomputers to explore the large number of perfect conditions required for the subdued behavior by Steeler Nation.

Scientists were surprised to discover the theoretical representation indicated a Steeler Nation without drunk and disorderly behavior. There would be no arrests for property damage, public urination, or assault. Throughout this theoretical universe, solemn Steelers fans would treat opposing fans with respect.

A NASA Spokesman commented, "As you can see it is mathematically possible somewhere for Steelers fans to conduct themselves with great honor. For Steelers fans to behave with such poise and self-constraint, it is likely this universe would have to contain very limited oxygen levels."

NASA has also begun working on an alternative universe model that includes a Bengals player roster free of arrests for an entire season. This scenario is requiring more computer resources than originally anticipated but is expected to be complete in 2015.