our breathtaking newsletter
Weekly gloriousness sent to your inbox.
Sunday, May 27th - 1:00 PM-1:00 PM

DERF Happy Hour
Keep checking back here to find out where the next DERF Happy Hour will be!
Popularity of new Speedo Bong credited to Michael Phelps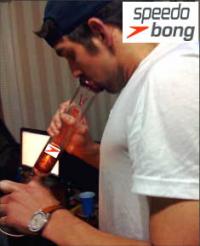 BALTIMORE, MD - Sales of the new Speedo Bong have been brisk since Michael Phelps agreed to endorse the product. Executives at the Speedo Company say thanks to Michael Phelps the newly released product is enjoying unprecedented popularity.

The Speedo Bong is the company's first venture into the 'alternative athletic lifestyle' market. A Speedo spokesperson said, "Our research indicates athletes love getting stoned. This is no longer a small niche market. Although Michael will influence swimmers all over the world, we also see a high sales potential among current and former players in the NBA, NFL, NHL, and all college and high school sports."

During a recent photo shoot demonstrating the product at a college party in South Carolina, Michael Phelps who won a record eight gold medals in the Beijing Games stated, "The Speedo Bong is the best bong I have ever used and I am proud to endorse it. When I feel like treating myself I shave my whole body and then I get high with a Speedo Bong."

1972 Olympic champion swimmer Marc Spitz commented, "Speedo and Michael have taken dope smoking to new levels. In my day we celebrated winning 7 Olympic gold medals by smoking dope out of a bong we made from a beer can."