our breathtaking newsletter
Weekly gloriousness sent to your inbox.
Saturday, June 23rd - 7:30 AM-12:00 AM

DERF Happy Hour
Keep checking back here to find out where the next DERF Happy Hour will be!
Bengals show restraint: Pass on Charles Manson in 6th round of NFL draft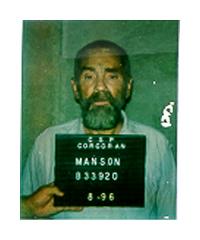 NEW YORK - During the sixth round of the NFL Draft, the Cincinnati Bengals organization gave serious consideration to drafting infamous cult leader Charles Manson, deciding instead on Abilene Christian University running back Bernard Scott.
Analysts call it a new day for the Bengals organization, as the team chose Scott (arrested 5 times and dismissed from Central Arkansas for punching a coach) over Manson (convicted of mass murder).
While the Bengals were on the clock waiting to make their 6th round pick, members of the organization were locked in a heated discussion. One faction insisted that the offense needed a solid young spark plug, while the other faction insisted that Manson's fiery pluck would make for some exciting football.
When asked why they would consider drafting a seventy four year old incarcerated cult leader, a Bengal's source stated that Manson is young for his age, that he has not been in any trouble with the law for several decades, and that contract negotiations could be drawn out until his next parole hearing in 2012. They also pointed out that Manson was born in Cincinnati, and everyone loves a hometown boy.
The decision not to draft Manson stood for the remainder of the draft, though officials would not rule him out as a possibility for next year. Also on the list of possible picks are David Berkowitz, Ted Kaczynski, and Bigfoot.
When informed that he was almost the Bengals seventh round draft pick, Charles Manson commented, "The blackbird is singin' in the dead of night. I'm taking my broken wings. Life goes on. And that Chris Henry, he's a baller man. I coulda used a dude like that. Number nine. Number nine."