our breathtaking newsletter
Weekly gloriousness sent to your inbox.
Saturday, May 26th - 1:00 PM-1:00 PM

DERF Happy Hour
Keep checking back here to find out where the next DERF Happy Hour will be!
Lance Armstrong returns home, dominates local YWCA spinning class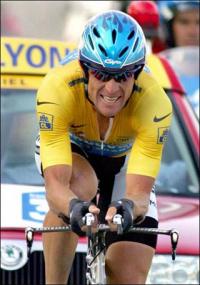 AUSTIN, TX – After losing his bid to win the 2009 Tour De France, cyclist Lance Armstrong returned to his home town this week and enrolled in a spinning class at an Austin area YWCA. Armstrong reportedly irritated other class participants by completely dominating the class from start to finish by spinning at 6-8 times the RPM rate of other spinners throughout the entire session.

The class instructor explained that Armstrong did not stop when the class ended. Reportedly Armstrong continued spinning during the break and throughout the entire next two classes. "This just further humiliated all of my spinning enthusiasts." said YWCA Instructor Amanda Pessler. "I guess he felt like he had something to prove after losing the Tour De France."
At one point during Armstrong's three hour show-off session, a smoke detector sounded. Class participants reported seeing smoke coming from Armstrong's spinning bike. Without any reduction in speed, Armstrong retrieved a small can of bicycle oil from his pack and applied the lubricant to the bike. Armstrong also requested a maintenance technician to be placed on standby in case further mechanical failures resulted.

During each spinning session, Armstrong verbally shared with the class many interesting points about his LIVESTRONG Foundation. After completing his comments, he conducted an open Q&A session. As the questions wrapped up, Armstrong announced, "I have several extra LIVESTRONG wristbands in my pack if anyone wants one when we're done here. They're still only a dollar a piece."
Armstrong also encouraged class participants to follow him on Twitter to stay abreast of news with the LIVESTRONG Foundation and cycling updates.