our breathtaking newsletter
Weekly gloriousness sent to your inbox.
Sunday, January 19th - 11:00 AM-5:00 PM

DERF Happy Hour
Keep checking back here to find out where the next DERF Happy Hour will be!
Discarded Terrible Towels help absorb Ohio River pollutants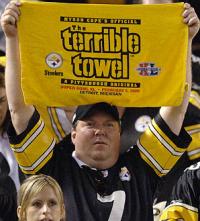 CINCINNATI - After watching the Bengals beat their team, thousands of Pittsburgh Steeler fans left Paul Brown Stadium and discarded their Terrible Towels in frustration and embarrassment. Many of these towels ended up in the Ohio River, and surprisingly resulted in a significant environmental clean-up.
The Bengal victory over the Steelers left the Pittsburgh fans in shock, and many could be seen hiding their Steeler garb and throwing away their Terrible Towels in order to avoid mocking from Bengals fans. By early evening, yellow towels dotted the water of the Ohio River. "I was looking at the river and I was really confused." said Yolanda Bicks. "At first I thought they were leftover ducks from the rubber duck regatta."
Hours later, many of the towels ended up on the riverbank, transformed to a deep brown color. "Most of the Terrible Towels appear to be made from ShamWow material," explained EPA official Tonya Evans. "They removed 86% of the river's toxins and a great deal of general sludge and muck. The river tested positive for water for the first time since the turn of the century. In environmental terms these towels aren't so terrible."

Most Pittsburgh fans were unaware of their positive contribution to the environment. Despite throwing away the evidence of their team affiliation, they were unable to completely hide their allegiance to the Steelers due to their classless behavior and physical characteristics of inbreeding.