our breathtaking newsletter
Weekly gloriousness sent to your inbox.
Sunday, June 24th - 6:30 AM-10:00 PM

DERF Happy Hour
Keep checking back here to find out where the next DERF Happy Hour will be!
Bengals travel back in time during fourth quarter of Raiders game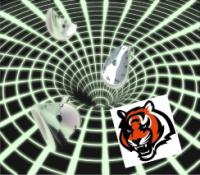 OAKLAND, CA - Physicists are furiously studying the circumstances that apparently led to the Cincinnati Bengals traveling back in time during the fourth quarter of their game versus the Oakland Raiders. It is believed that the team left current time, and managed to somehow travel back to when they sucked.

"We are studying game film from every camera that was in the stadium," explained UC Berkeley physicist Byron Stouffer. "If we can just find the moment when the time travel began, we can begin exploring areas of relativity that we did not even know existed. There is a very good chance the Bengals entered a wormhole."

Everything seemed rather normal during the game, as the Bengals held onto a lead over the Raiders heading into the fourth quarter. However, the time travel took the Bengals to a place where losing the game in the final minute was the only option.

"This is a very exciting development," Professor Stouffer went on to say. "We may be on the brink of a new scientific laws and theories, all because of the Cincinnati Bengals. The world may soon be treated to The Chinedum Ndukwe Theory of Quantum Gravity, or the Rey Maualuga/Domata Peko Law of Chronology Conjecture. Perhaps even a Frostee Rucker Theory of General Relativity. I only wish Einstein were alive to see this. Although, he probably would have taken the Raiders and the points."

Bengal Andre Caldwell, who fumbled the final kickoff of the game, also seemed excited by the news. "So does this mean I don't suck?" he asked.