our breathtaking newsletter
Weekly gloriousness sent to your inbox.
Saturday, June 23rd - 7:30 AM-12:00 AM

DERF Happy Hour
Keep checking back here to find out where the next DERF Happy Hour will be!
STUDY: Tom Brady 47% less attractive after season ending playoff loss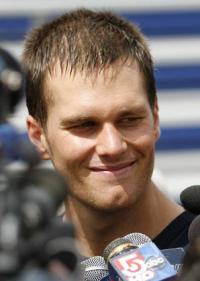 FOXBORO, MA - Researchers have determined New England Patriot Quarterback Tom Brady's 2010 Playoff loss and exclusion from a third consecutive Super Bowl has resulted in a 41% decrease in Brady's general attractiveness. The study was a joint effort between ESPN and The Journal of American Psychology.

For the first time in Brady's career, his quarterback rating has exceeded his attractiveness rating. Dubbed by experts as the Brady Inversion, this reversal of the two key indices has brought Brady into statistical territory well known to Peyton Manning and most other NFL quarterbacks.

Brady's supermodel girlfriend, Gisele Bundchen, agrees with the findings and said, "I don't see Tom the same way now that we'll be watching the Super Bowl from someone's living room." Bundchen also admitted when Brady lost in the 2008 Super Bowl, she became more attracted to singer Tom Petty who was the half-time act in that game.

The study also definitively concluded that appearing in the Super Bowl has had no effect on the below average attractiveness rating of Peyton Manning.