our breathtaking newsletter
Weekly gloriousness sent to your inbox.
Tuesday, March 19th - 5:30 AM-2:00 AM

DERF Happy Hour
Keep checking back here to find out where the next DERF Happy Hour will be!
Damaged fire hydrant acknowledged during Tiger Woods' apology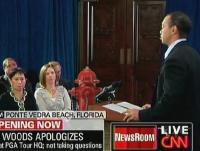 PONTE VEDRA BEACH, FL - In an effort to include all parties that were adversely affected by his extra marital affair, the fire hydrant he damaged with his SUV was present at Tiger Woods' public apology. The damaged hydrant was given a seat in the front row along with other close friends and relatives. The seat is believed to have been originally intended for Elin Woods, who was not in attendance.
The damaged hydrant has stayed out of the public view since being slammed into by Woods' SUV in late December. Despite being hounded by journalists and paparazzi, the hydrant has kept a low profile during its recovery, leaving many shocked to see it sitting in the front row during the televised statement.
It is believed that the hydrant was flown to the Caribbean on a trip paid for by friends of Woods. While there, the hydrant underwent reconstruction and stayed at a luxury hotel and spa. This appears to be the case, as most of the damage appears to be repaired, and several scuffs have been replaced by a Nike swoosh.

During his apology, Woods did not address the hydrant directly, although he was sighted giving it a repentant nod. When the apology was over the hydrant was among several in the audience to receive a tearful hug from Tiger before he exited.