our breathtaking newsletter
Weekly gloriousness sent to your inbox.
Saturday, June 23rd - 7:30 AM-12:00 AM

DERF Happy Hour
Keep checking back here to find out where the next DERF Happy Hour will be!
World Cup Soccer upstaged by countdown to World Equestrian Games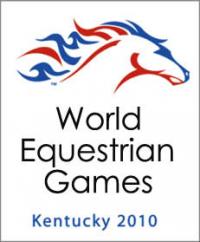 LEXINGTON, KY - Organizers of the FIFA World Cup had hoped that this years games would lead to greater exposure for the sport than ever before. However, they've been disappointed to find out that their event has been eclipsed by the world feverishly counting down the days to the World Equestrian Games.
With the World Equestrian Games just months away, officials in host city Lexington, KY are doing their best to deal with the fervor and excitement surrounding the event. "We've had requests for housing from cities that I'm not even able to pronounce," said WEG official Robert Sortmeyer. "We know the city is going to be packed, right now our only concern is having enough security to deal with some of the world's more rowdy hooligan equestrian fans."

FIFA organizers were further embarrassed by the upstaging when two announcers of a world cup soccer match spent the entire 94 minute scoreless game discussing who they favored at the World Equestrian Game vaulting finals.

Further evidence could be found in Brazil, where children in the street don't even seem to be aware that the FIFA World Cup is going on. They are instead spending their time riding fake horses they've cobbled together from old broom handles while getting into heated arguments over their favorite Dressage riders.