our breathtaking newsletter
Weekly gloriousness sent to your inbox.
Thursday, March 1st - 1:00 PM-12:00 AM

DERF Happy Hour
Keep checking back here to find out where the next DERF Happy Hour will be!
Maria Sharapova blamed for Cincinnati heat wave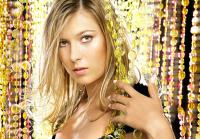 CINCINNATI, OH - As Cincinnati declared yet another city wide heat emergency, scientists blame the extreme temperatures on the presence of Russian tennis player Maria Sharapova.
Sharapova arrival in town for the Western and Southern Women's Open coincided with a six degree spike in temperature and a twenty percent increase in humidity. Scientists say that the increase is not a coincidence. "I have been studying this phenomenon for many years now," said climatologist Stanley Nelson. "There is an average five to nine percent increase in the heat index wherever she goes. Maria Sharapova is a microclimate unto herself. A very hot microclimate."
Upon hearing that Maria may be the cause of the heat emergency, some members of City Council looked to hold her accountable. "We would like for Miss Sharapova to appear before council to explain herself," said Council member Jeff Berding. "We would also request that she wear that little red outfit she wore during the US Open. Or a sundress."
Council is considering asking Sharapova to pay for the extra expense of running the Cool Centers located at the city's recreation centers. "It would be good if we could get her to write a check," Berding went on to say. "Maybe she could help offset the cost by selling some of her sweaty towels and clothing."