our breathtaking newsletter
Weekly gloriousness sent to your inbox.
Sunday, June 24th - 6:30 AM-10:00 PM

DERF Happy Hour
Keep checking back here to find out where the next DERF Happy Hour will be!
Roger Clemens claims he sold steroids to members of Congress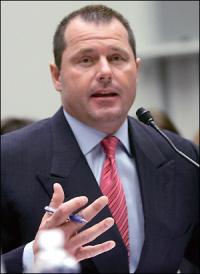 WASHINGTON, DC - Facing charges of lying to Congress, Roger Clemens is lashing out at his accusers. He claims to have sold steroids to several members of Congress including Speaker of the House Nancy Pelosi.
Clemens is under fire for testifying under oath that he did not use performance enhancing drugs while playing professional baseball. "They can come after me all they want," said an obviously irritated Clemens. "But I'm gonna take them down with me. If you don't think Pelosi is juicing, then you've got your head in your butt."
He explained that on the day he testified before Congress, he was approached by Pelosi in the corridor outside of the hearing room. "She said she needed a fix really bad," Roger explains. "She asked if I was holding and offered me a wad of bills if I could hook her up with a little HGH. Next thing I knew, we were in a unisex bathroom next to her office, we dropped our pants and shot each other up. Then we went down to the Congressional weight room and I watched her squat 450 pounds. Pretty impressive, really."
Clemens said that if prosecution continues, he will begin naming more members of Congress who are steroid users. "They talk about how it alters your physical appearance," he said. "Well take a look at these politicians. They have to be using some stuff much worse than what I get from the horse stable. Bad hair, screaming fits of rage, hell, some of them have orange skin."
In a related story, Rep. John Boehner has recommended that all charges against Clemens be dropped.