our breathtaking newsletter
Weekly gloriousness sent to your inbox.
Saturday, May 26th - 1:00 PM-1:00 PM

DERF Happy Hour
Keep checking back here to find out where the next DERF Happy Hour will be!
Indianapolis Colts plan on resting Peyton Manning until playoffs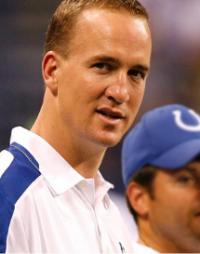 INDIANAPOLIS, IN - In a move that many football analysts are calling overly cautious, Indianapolis Colts head coach Jim Caldwell has decided to rest quarterback Peyton Manning until the playoffs. Manning will spend the regular season on the sidelines while his backups go in harms way until the games begin to take on more meaning.
"The entire organization believes that this is the best way to proceed," said Coach Caldwell. "The last thing we need is Peyton out there busting up his leg against the Giants in week two. That will totally kill our chances for the Super Bowl.

Coach Caldwell also commented, "Just to be on the safe side we may not play Manning in any of the playoff games either. We need to protect him for the Superbowl."
Many fans were shocked to find out that the Colts will be led at quarterback in the regular season by a third string player. They were even more shocked to find out that the player is actually a third string offensive lineman, Calvin Hollis. "We can't afford to let our backup QB's go down this early in the season," Caldwell went on to say. "The only solution is to let Calvin lead the troops until the playoffs when we feel comfortable putting in our third and second string QBs.

Manning is looking forward to spending the regular season on the sidelines. "Even though they don;t want me to practice either, I'm happy to contribute in any way I can," he explained. "However, I think it is best if one of my other backups holds the clipboard. Those things are kinda pointy, and it would be devastating to the organization if I poked my eye out at any point before we go to the Super Bowl."