our breathtaking newsletter
Weekly gloriousness sent to your inbox.
Saturday, May 26th - 1:00 PM-1:00 PM

DERF Happy Hour
Keep checking back here to find out where the next DERF Happy Hour will be!
Snap, Crackle, and Pop admit to running phone sex operation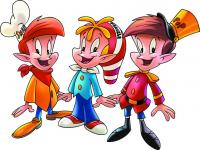 BATTLE CREEK, MI - Amid the controversy surrounding a sex line phone number on packages of OchocincO's cereal, an investigation into the seedy underworld of cereal has revealed that pitchmen Snap, Crackle and Pop have been running a phone sex operation of their own.
Evidence suggests that in the early 90's, the trio started a phone sex line promising customers a "snap, crackle, popping good time." Callers to their 800 number spent over four dollars a minute listening to adult conversation while the sound of crisped rice marinating in milk played softly in the background. The service was reportedly extremely popular in Japan.
"We would like everyone to know that this venture is separate from our roles as breakfast cereal spokesmen," said an obviously embarrassed and nervous Crackle. "Economic times are tough, and with increased competition from generic brands, we found that it was wise to diversify our talents."
The investigation is ongoing, and focused on possible involvement by other cereal spokesman. "We've found some evidence that this may be widespread," said Kellogg's Vice President Martin Ainesworth. "I don't want to name names, but we've found an advertisement by someone claiming to be a real Tiger, and they promise a Grrrrrreat Time over the phone."
The General Mills cereal corporation may also have a similar problem, ads have been found in gay publications offering up phone sex from a man claiming to have a sexy Irish accent who refers to himself as magically delicious. In addition, there is a phone sex line run by someone named Sonny, who promises that you will go Cuckoo over his chocolate balls.