our breathtaking newsletter
Weekly gloriousness sent to your inbox.
Saturday, June 23rd - 7:30 AM-12:00 AM

DERF Happy Hour
Keep checking back here to find out where the next DERF Happy Hour will be!
Carson Palmer inducted into Steelers Hall of Fame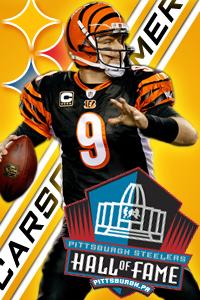 PITTSBURGH, PA - The newest inductee into the Pittsburgh Steelers Hall of Fame is Cincinnati Bengals quarterback Carson Palmer. Palmer was picked for the honor after throwing three interceptions against the Steelers, two of which were run back for touchdowns. Steelers owner Dan Rooney has also hinted that Palmer's number 9 may be retired and inducted into the Steeler's ring of honor.
Palmer joins Pittsburgh heroes like Franco Harris, Mean Joe Green, and Terry Bradshaw as members of the Steeler Hall of Fame. His enshrinement ceremony will take place after the season and is expected to be well attended. "I know that I'll be there in the front row cheering him on, I've never been so in sync with a quarterback," said Steeler Troy Polamalu. "The guy has shown dedication to the franchise that should be honored forever."
Though it is rare for a team to have a member of a rival team enshrined in their Hall of Fame, Palmer is not the first Bengal so honored. Former quarterbacks David Klingler and Akili Smith are in the Halls of Fames of every other team in their division, as well as a few teams elsewhere in the NFL. Former Bengals coach Dave Shula also holds that distinction.
"I appreciate this honor given to me by the Steelers," said Palmer. "Of course, I could not have achieved this on my own. I owe a great deal of thanks to my wide receivers and offensive line. Without them, I may not have thrown all those interceptions. Then again, I probably would have found a way to get it done on my own."
Carson went on to note that though he was receiving this honor now, he still had more he wanted to accomplish in his career. "I still have many good years left in me," he said. "And someday, hopefully I will be enshrined in the NFL Hall of Fame in Canton as a Steeler."