our breathtaking newsletter
Weekly gloriousness sent to your inbox.
Saturday, May 26th - 1:00 PM-1:00 PM

DERF Happy Hour
Keep checking back here to find out where the next DERF Happy Hour will be!
Marvin Lewis admits suffering from masochist tendencies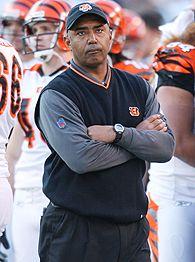 CINCINNATI, OH - Following an odd and uncomfortable press conference in which it was announced he would be staying as Bengals head coach, Marvin Lewis held another press conference in which he admitted an addiction to masochistic behavior.
"The first step is to admit I have a problem," began Coach Lewis. "And I've got a big one. I am a glutton for punishment, and I am powerless over my addiction."
The admission made some sense of Lewis' signing on as Bengals head coach. The signing came with no promise from Mike Brown to allow the head coach to have increased control over his coaching staff or personnel decisions.
"I'm not sure where the road to recovery will take me, though I guess I'm locked into this contract for a while," he explained. "This addiction has followed me throughout my career. When I was in Baltimore, I punished myself by hanging around Ray Lewis. In Pittsburgh, I punished myself by walking around town everyday trying to spot an attractive female. Here in Cincinnati, it's been trying to coach a competitive football team."
Addiction expert Candy Finnegan says Marvin has a long way to go to recovery, "There are many steps he will have to work. Perhaps the hardest one will be making amends to those who have been hurt by his addiction to masochism. I guess he'll have to walk door to door and apologize to everyone in Cincinnati."
Lewis also hinted that he is not the only member of the Bengals to face addiction issues, but did not elaborate. "This process is anonymous, so I'm not going to name any names, but the Bengal organization is definitely home to a hoarder. He collects and refuses to part with bad players and coaches."
Bengal fans are still digesting the news, but some are hopeful that Coach Lewis finds his way to recovery. "I hope he can beat his masochistic addiction," said Bengal fan Terry Gaul. "I knew something weird was going on with him. The odd smile he had on his face while sitting next to Mike Brown. The cooing noises he appears to make after the Bengals go three and out. And the way he always seems to be holding a clipboard over his groin whenever there was a delay of game penalty."