our breathtaking newsletter
Weekly gloriousness sent to your inbox.
Wednesday, April 25th - 6:30 PM-8:30 PM

DERF Happy Hour
Keep checking back here to find out where the next DERF Happy Hour will be!
Cincinnati fans help Ochocinco pack bags for New England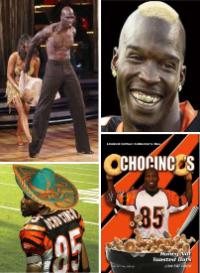 CINCINNATI, OH - After months of uncertainty, Bengals wide receiver Chad Ochocinco has been traded to the New England Patriots. Football fans in Cincinnati responded to the news by banding together to assist Chad in packing his belongings for the move.
For years now, Ochocinco and Patriots head coach Bill Belichick have engaged in mutual admiration, and Cincinnati Bengal fans are glad that the relationship is finally ready to blossom. "It's been like watching Ross long for Rachel on Friends," said Bengal fan David Huesman. "I think it's way past time for those crazy kids to finally get together. That's why I showed up here at his house with a bunch of styrofoam peanuts, bubble wrap, and some old Chad Johnson jerseys he can use to wrap up breakables."
Fans lined up outside of Chad's home, holding cardboard boxes of various shapes and sizes. Others brought bungee cords, duct tape, and apartment guides for the greater Foxboro, Massachusetts area. Some fans went even further, offering up their trucks for transporting his belongings and providing him with a map showing all of the McDonald's restaurants that Chad will have available in his new city.
"I would say I'll miss him," said fan David Barksdale. "But as long as I have cable TV that shows reality programs, Chad will never be too far away. Even after he stops starring in shows where he is looking for love, he'll probably open up a bakery so he can be on the Food Network."

"It's good to know that I'll have help if I move," said Ochocinco upon learning of the effort. "Especially since I can't get any of my teammates to return my calls. Plus, they're not really good at heavy lifting anyway."