our breathtaking newsletter
Weekly gloriousness sent to your inbox.
Thursday, April 19th - 6:00 PM-8:30 PM

DERF Happy Hour
Keep checking back here to find out where the next DERF Happy Hour will be!
John Boehner to coach weeping Jay Cutler in off season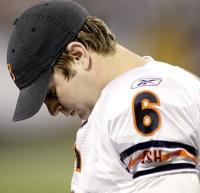 CHICAGO, IL - After word spread that quarterback Jay Cutler cried following his injury and loss to the Packers, Speaker of the House John Boehner has signed on to coach him in the art of fake crying. The sessions are expected to take place in the off season, both in Chicago and Washington DC.
Speaker Boehner's frequent weeping is widely praised as technically perfect, and it is believed that he has much wisdom to impart on the finer points of fake crying as a grown man. Cutler hopes that with Boehner as his mentor, future episodes of weeping will be seen in a more favorable light.
"The kid certainly has potential," said Speaker Boehner. "But there are some intricacies to man-crying that need to be developed. I was once a rookie fake crier like him. Poor fella just needs a leg up. The only football player I've seen that is really good at it is Tim Tebow, but he's perfect at everything."
Boehner would not go into full detail as to what he will teach in the weeping coaching sessions, but did offer a few tips. "A good manly sob is all in the shoulders," he explained. "They need to stay back and proud, not hunched over like a little girl. Also, it is important to tighten the midsection. It's that kind of perfect crying form that gave me these six pack abs."
In a joint press conference announcing the partnership, Boehner and Cutler showed a mutual respect and fondness for each other. "I feel quite privileged to have Congressman Boehner as my new weeping mentor," said Cutler as he held back fake tears. Boehner then cancelled the press conference as they both became too emotional to answer questions.