our breathtaking newsletter
Weekly gloriousness sent to your inbox.
Saturday, June 23rd - 7:30 AM-12:00 AM

DERF Happy Hour
Keep checking back here to find out where the next DERF Happy Hour will be!
Disney princesses relieved Ben Roethlisberger won't be visiting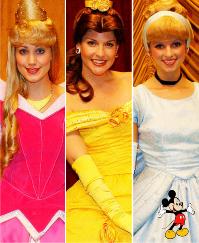 ORLANDO, FL - A collective sigh of relief swept through Disney World Sunday night as a Green Bay Super Bowl victory ensured that the Disney princesses would not be subjected to a visit from Ben Roethlisberger.
Princesses gathered to watch the game in the media room at Cinderella's castle, replacing their usual tiaras with Green Bay Packer foam cheeseheads. As Aaron Rogers took a knee and the final seconds ticked off the clock of Super Bowl XLV, the princesses celebrated with cheers and hi-fives. Birds and forest creatures joined in the festivities, singing songs about the joy of not being sexually assaulted.
"I usually only watch the Super Bowl for the commercials," said Princess Cinderella. "But I had a vested interest in this game. If the Steelers won and Ben was coming to town I was going to need to brush up on self defense classes, or maybe start hiding shanks in restrooms around the park."
Princess Jasmine was so concerned about the possibility of a Roethlisberger visit that she considered fleeing Disney World. "Thank goodness Ben decided to throw those interceptions!," Jasmine exclaimed. "I would have been stuck when he got here because I don't have any sick days left and I'm saving up all of my vacation time for Bonnaroo."
Disney World security did not comment on how they would have handled a Roethlisberger visit, though they did say that the princesses are usually good at handling themselves. Princess Belle, however, was not ready to take that chance. "I can handle the occasional creepy dad and everyone knows Goofy is all hands," she said. "But Ben takes it to another level. I've already got one Beast at home to deal with."
For his part, Roethlisberger claimed to not be upset about missing out on the chance to visit Disney World. "There are plenty of princesses here in Pittsburgh," he explained. "Unfortunately, most of them have mustaches and can kick my ass if I try anything funny."
Related Stories