our breathtaking newsletter
Weekly gloriousness sent to your inbox.
Saturday, May 26th - 1:00 PM-1:00 PM

DERF Happy Hour
Keep checking back here to find out where the next DERF Happy Hour will be!
Super Bowl pregame show still underway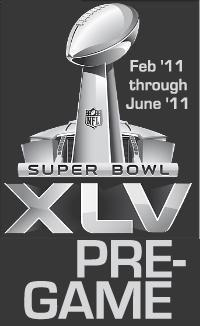 DALLAS, TX - Though the game may be long over, the FOX Super Bowl pre-game show is still underway. The pre-game show began on the morning of Super Bowl Sunday and continues with no end in sight.
Various FOX sports commentators are still making their views known on how they think Super Bowl XLV will play out. Considerable time has also been spent pointing out that Dallas Cowboys Stadium is quite large, holds lots of people, and has an enormous video screen.
Over two hours of air time has been used explaining roman numerals, so that viewers will be able to decipher what number the letters after 'Super Bowl' are referring to. During that time, FOX commentator Terry Bradshaw had to be resuscitated after his head came very close to exploding. "If 'V' means five," asked the former Pittsburgh quarterback, "Then shouldn't the word 'fifty' be spelled with two V's?"
"The Super Bowl is the largest media event of the year," said FOX vice president of sports programming Marvin Hiatt. "We've sold commercials for all of this time, and we're not gonna let something like the game being over keep us away from this valuable content."

Hiatt explained the program will provide even more in-depth coverage of Aaron Rodgers' alma mater Butte Community College. "The FOX camera crews have developed an emotional montage that includes one of the parking spots where Aaron Rodgers likely parked his car and the desk he would have used if he had attended class."

Hiatt also explained FOX will air several more hours of footage of Ben Roethlisberger in his car, home, around his community, and at the Steelers workout facility conveying heartfelf apologies to teammates, team owners, and fans about his behavior ealier this season.

FOX executives added that if the pre-game show ever comes to a conclusion, they will begin broadcasting a post-game show that lasts well into October.