our breathtaking newsletter
Weekly gloriousness sent to your inbox.
Saturday, May 26th - 1:00 PM-1:00 PM

DERF Happy Hour
Keep checking back here to find out where the next DERF Happy Hour will be!
Millions protest in U.S. streets over treatment of NFL players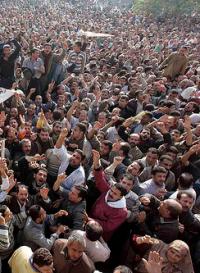 WASHINGTON, DC - Emboldened by the demonstrations for justice taking place in the Middle East, millions of people around the world have taken to the streets protesting the treatment of NFL football players.
"I declare this to be a day of rage," screamed NFL player supporter Tim Goshen to an assembled crowd on the Washington Mall. "Let there be no end to our outrage until NFL players are paid a decent wage for working several hours a week! If something is not done soon, these guys will end up working a forty hour week, fifty weeks a year."
Most of the actual NFL players are too worn down by the oppression of their jobs to take to the streets and protest themselves, but are still thankful and supportive of the movement. Some even let their hired help go home early if they promised to stop by the protests on the way home. Terrel Owens even paid his housekeeper extra for her participation in the protest. "Even though I am oppressed, I just figured giving her an extra five bucks was the right thing to do. She works hard," said Owens. "Not eighteen games a year hard, but pretty hard."
"I wish I could be there with you now," read a statement from New England Patriots quarterback Tom Brady. "But the stress of my job has caused me to lose a good deal of hair, and I am in treatment. I will also be quite busy later in my mansion having sex with my supermodel wife. That will also be quite stressful, because if I accidentally impregnate her, I'll have to find a new one."