our breathtaking newsletter
Weekly gloriousness sent to your inbox.
Wednesday, April 25th - 6:30 PM-8:30 PM

DERF Happy Hour
Keep checking back here to find out where the next DERF Happy Hour will be!
Reds pitching staff detained by Arizona immigration police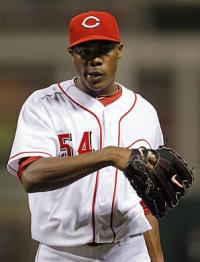 GOODYEAR, AZ - The CIncinnati Reds suffered a setback in spring training, forfeiting a game because the majority of their pitching staff were being questioned about their citizenship by Arizona police. The players were taken en masse for questioning when police spotted them returning to their hotel after eating at a local Denny's restaurant.

A total of twelve Reds pitchers were taken in for questioning. Most of the twelve were unable to provide any definitive proof of their identities because their ID's were left at the hotel, used as a security deposit on the mini-bars in their rooms. Players who did provide identification were still brought in, under the assumption that they were mules bringing the others into the country.

Though several of the pitchers were not naturalized US citizens, others including Travis Wood and Homer Bailey are citizens by birth. Unfortunately for Wood, he arrived in Arizona several weeks early for spring training, and had thus developed a deep tan, making him a target. Bailey thought he was going to be let go immediately, but police were sure that 'Homer Bailey' was a quickly made up name. Homer's situation did not improve when one of the people he named who could confirm his identity was former pitching coach Dick Pole.

At the police station, investigators thoroughly searched the detained pitchers. This search included a complete round of x-rays on Edinson Volquez's pitching arm, as police theorized he was smuggling drugs into the country beneath his Tommy John surgery scar. Volquez did not mind the intense scrutiny of his arm saying, "It distracted them from checking the rest of my body, including where I was hiding my fertility drugs."

Though he did not have his driver's license, pitcher Bronson Arroyo attempted to prove his identity by giving police a copy of his most recent CD. He then attempted to perform songs from the CD and was charged with disturbing the peace.

The ordeal may have cost the Reds more than just one spring training game, however, as pitcher Aroldis Chapman remains disturbed by the ordeal. Sources close to the pitcher report that he is now considering leaving the country and fleeing to his native Cuba where the government is not so repressive.