our breathtaking newsletter
Weekly gloriousness sent to your inbox.
Wednesday, April 25th - 6:30 PM-8:30 PM

DERF Happy Hour
Keep checking back here to find out where the next DERF Happy Hour will be!
Billy Packer spends NCAA tournament alone in room, mumbling about Duke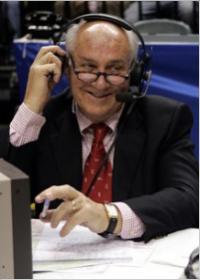 DURHAM, NC - Billy Packer has spent the majority of this years men's NCAA college basketball tournament alone in a motel room. The former CBS broadcaster has watched the games while rocking back and forth, mumbling incoherently about the greatness of the Duke University Blue Devils.
Packer has had little contact with the outside world since the tournament began. He placed several phone calls attempting to order pizza, but could not complete the order. "He started out the call normally," said local Dominoes employee Ryan Freeman. "But then he started sobbing a little and told me that Coach K probably made a better bread bowl pasta than we could ever think of making."
Packer was almost kicked out of the motel after an incident involving a member of the housekeeping staff. "I came by to see if he needed maid service or more towels," said housekeeper Carmela Dees. "He said he wanted me to clean his tub, but first he wanted me to cover my body in blue paint and jump up and down for him. Then he accused me of being a spy for the Pac 10 conference."
This same paranoia was on display when Packer placed himself inside the hotel's ice dispenser and harassed guests. He would insist that they answer questions about Duke basketball history before allowing them access to the ice. If they were not able to answer correctly, he told them that the ice was only available to elite guests, and that mid-major guests should have to drink their water lukewarm.