our breathtaking newsletter
Weekly gloriousness sent to your inbox.
Tuesday, March 20th - 5:30 AM-2:00 AM

DERF Happy Hour
Keep checking back here to find out where the next DERF Happy Hour will be!
Bronson Arroyo contracts mono after making out with self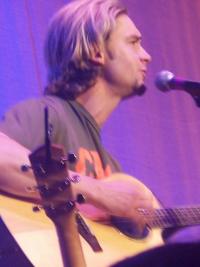 GOODYEAR, AZ - In another setback for the Reds pitching rotation, doctors have confirmed that Bronson Arroyo has a case of mononucleosis. Arroyo contracted the disease after a prolonged session of making out with himself.

Arroyo has expressed disappointment in himself for allowing it to happen, but says that it was inevitable. "I caught a glimpse of myself playing guitar, and I just started to swoon," he said. "I've never really been able to resist a sexy rock star. So the next thing I knew I had my tongue down my throat and was into some serious heavy petting with myself."

Reds front office officials have taken note of the situation, and plan to impose immediate changes to Arroyo's contract. "I've gotten word from the front office that Bronson will have to sign several new clauses," said his agent Raymond Heir. "He'll have to resign from his position as Bronson Arroyo's head groupie, and he will have to go to counseling in an effort to find himself slightly less adorable."

It is not yet known how long the illness will keep Bronson sidelined, but he has promised fans that intense attraction to himself will never again become an issue. "Each day I deal with the temptation," said the hard rocking pitcher. "In fact, just this morning, even though I am sick I was tempted by myself. I calmed myself down before things got out of hand though. I could have really hurt my back with what I was planning on doing to myself."