our breathtaking newsletter
Weekly gloriousness sent to your inbox.
Saturday, June 23rd - 7:30 AM-12:00 AM

DERF Happy Hour
Keep checking back here to find out where the next DERF Happy Hour will be!
Kentucky Derby festival to kick off with ceremonial first Infield Urination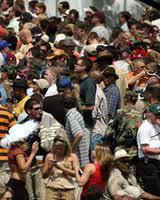 LOUISVILLE, KY - Festivities will soon be officially underway for the Kentucky Derby, as the ceremonial first Infield Urination takes place at Churchill Downs. This year's ceremonial First Urination will be performed by retired Kentucky state senator Graham Wendall.

As a crowd of hundreds look on, the 87 year old former state senator is likely to be holding back tears. "For over 50 years, I represented this Commonwealth with pride and dignity," he announced to the crowd. "However, I have never felt more proud or dignified than I will, as I declare this Derby Festival open." Mr. Wendall is then expected to courteously turn his back to the crowd and release the Derby Festival's first of what is sure to be many urinations in the infield of the legendary track.

The honor went to Senator Wendall this year after organizers were turned down by their first choice, frequent Derby attendee and horse enthusiast Queen Elizabeth II. The Queen was unable to pass the first Urination in the Infield due to her grandson Prince WIlliams wedding. She did, however, send a video message that was played on the big screen at the track during the ceremony, expressing her regrets. "I only wish I could be there," said the Queen. "It would have been an honor to christen the bluegrass of the infield, not that I haven't done so on many occasions. Though this time in a ceremonial rather than festive manner."

Derby Festival organizers speak highly of the storied tradition of the ceremonial first Infield Urination. "We begin planning for next year immediately after the last drop has hit the grass," said infield ceremony chairman Dr. Lance Deering. "I'm thinking next year we'll go for a younger ceremonial first urinator, someone with a healthier prostate. It may take Senator Wendall a good five minutes to get things going."

As the countdown continues to the Kentucky Derby, other Churchill Downs Infield ceremonies will be held. These include the ceremonial first domestic dispute, the ceremonial first puke and rally, the ceremonial first sunburnt seizure, and the ceremonial first broken whiskey bottle fight.
In the past, featured ceremonial first urinators have included boxer Muhammad Ali, singer Billy Ray Cyrus, UK basketball coach Adolph Rupp, NFL star Paul Hornung, game show host Chuck Woolery, former Miss America Phyllis George Brown and founder of KFC Colonel Harland Sanders.

Related Stories